LUPUSEC - Glass breaking sensor V2
The LUPUSEC - Glass breaking sensor V2
The LUPUSEC glass breaking sensor V2, detects the distinctive sound of breaking window glass and immediately notifies your alarm panel. You need to install the glass breaking sensor in close proximity to your windows. The glass breaking sensor is battery powered and connects wirelessly to your XT alarm panel. Hence, you do not need to hassle with any wiring and you can install it at any wall or ceiling of your choice.
You can use the glass breaking sensor V2 to secure your home, office, and business. Due to the new design, the glass breaking sensor V2 fits perfectly into your home.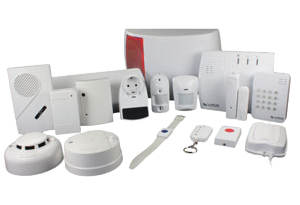 The LUPUSEC alarm system
Broad expandability - The LUPUSEC alarm system:
We offer a wide variety of sensors and accessories that you can control and program in your smart home alarm system. You can integrate door contacts, IP cameras, motion detectors, mechanical and magnetic locks, shutter relays, and heating controls with just a few easy clicks to your smart home alarm panel.