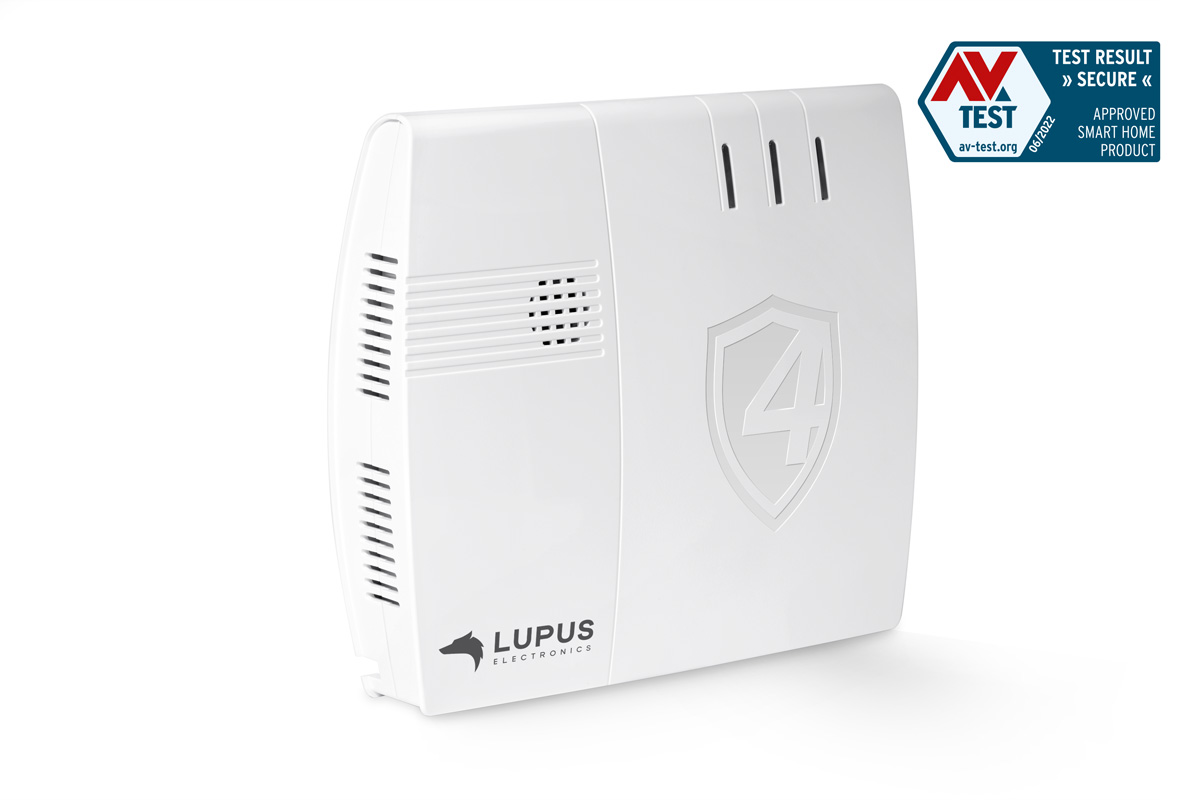 Das Top-Modell für die Installation durch den professionellen Fachhandel.
Im privaten und geschäftlichen Bereich gleichermaßen geeignet.
Staatlich gefördert durch die KfW, EN 50131 Grad2 konform.
Unterstützung der neuen Pro-Sensoren mit bis zu 2km* Reichweite.
Schnellerer CPU, interne Sensoreingänge und internes Relais.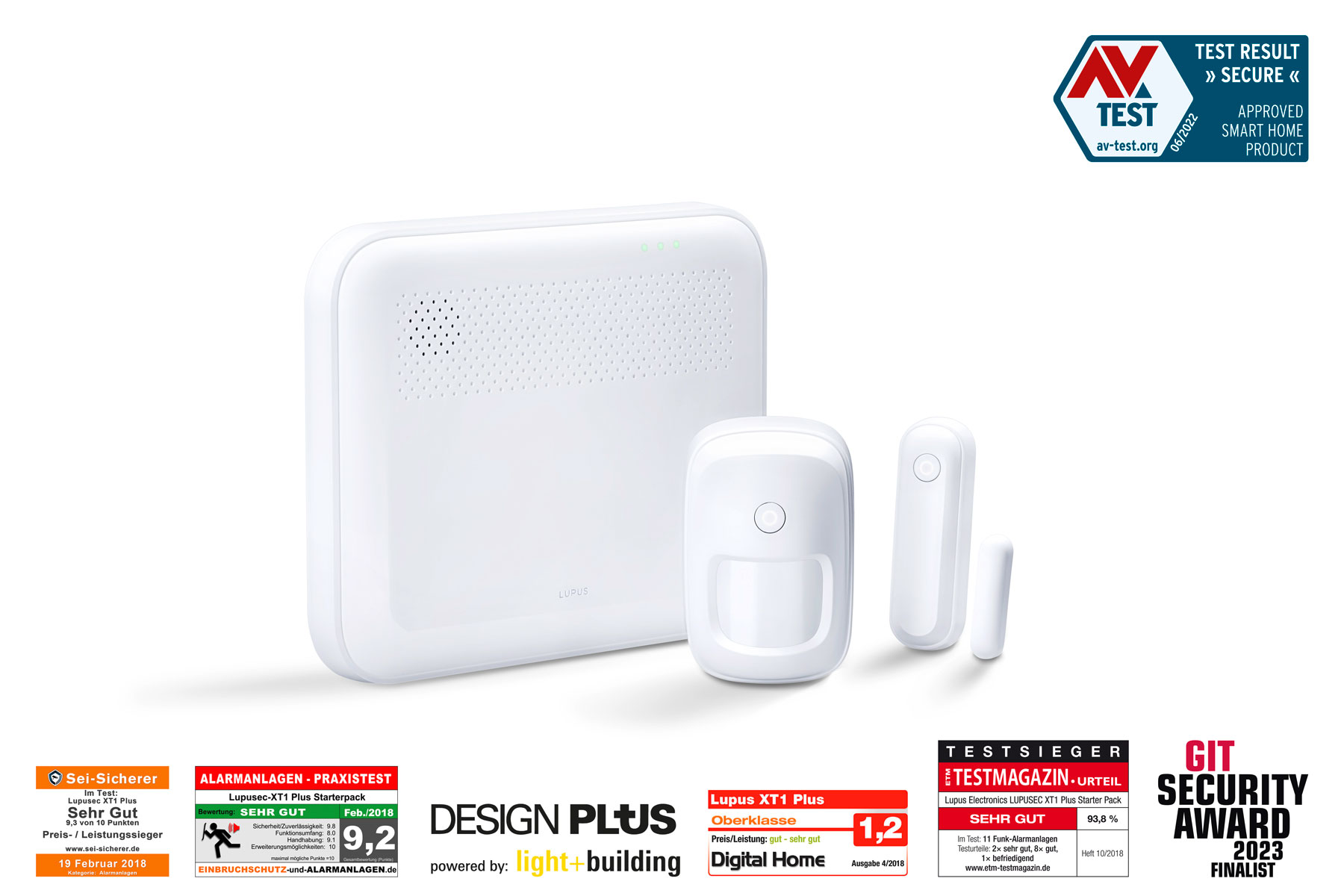 Combines three worlds: home security, video surveillance, and smart home
Starter kit contains: XT1 Plus alarm panel, 1 door contact V2 and one PIR motion detector V2
Quick configuration via browser, iPad, or tablet
Sends alarms via SMS, E-mail, TCP-IP, or directly to a security service center via contact ID
One central interface to secure your home: control the status of your windows and doors or check the live images of your LUPUS cameras or recorders
Access via iPhone, iPad, or Browser
Is extremely fast setup!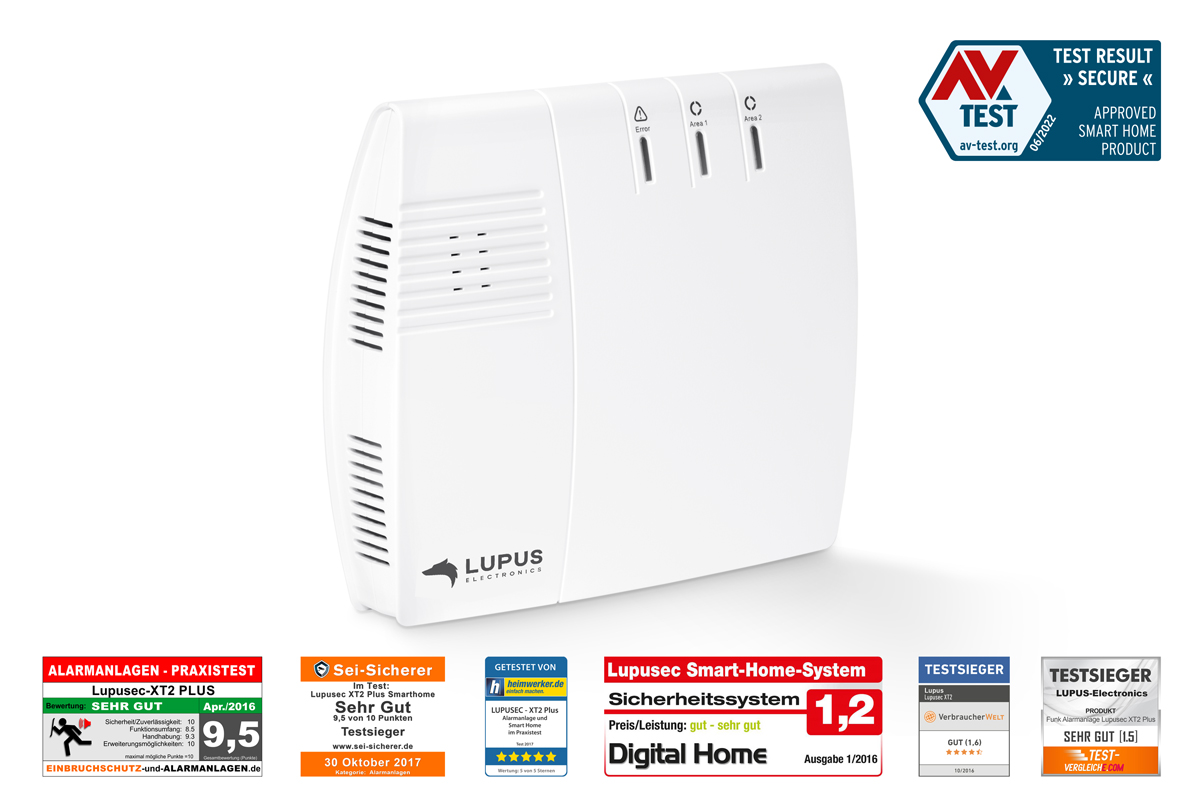 Combines three worlds: home security, video surveillance, and smart home
Supports up to 240 sensors in 2 areas, and features a 4G GSM modul
The alarm panel connects all your devices: may it be radiator thermostat, smoke detector, or shutter control
Programmable sensor responses
SSL v3 256bit encryption to protect your personal data
Access via browser or free Android and iOS APP
Features a mordern and appealing design with a user-friendly interface
Software updates are released regularly and free of charge
LUPUS-Smarthome Alarm systems
The free LUPUSEC App provides you with the option to access your LUPUSEC Smart home alarm system in its entirety by smartphone or tablet computer. Everything at one glance in a clearly arranged app. Do you want to check the alarm status while youre away? Or arm or disarm the alarm system? Or simply double-check that windows and doors are closed? No problem, one look at your smartphone is enough and you can enjoy the day. THE MOST IMPORTANT FUNCTIONS IN DETAIL: Arming, disarming, or partial arming Worldwide real-time access to any information and event Worldwide real-time access to any setting Live camera access to CCTV cameras and CCTV recorders integrated in the system View pictures of events Integrated home automation devices such as e.g. wireless sockets can be activated and deactivated. Please note that additional costs may arise if your LUPUSEC alarm system connects to the internet, depending on your mobile or internet service provider. Please note furthermore that your LUPUSEC-XT1 main panel must be connected to the internet and configured accordingly to control it externally.
Become a specialist retailer
//=TEXT_FOOTER_COOKIE_MESSAGE ?> //=TEXT_FOOTER_COOKIE_CONFIRM ?> //=TEXT_FOOTER_COOKIE_LINK_LABEL ?>