LUPUS-XT4. The new smart home alarm panel by LUPUS-Electronics.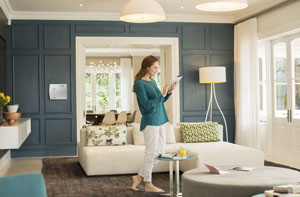 The new LUPUSEC-XT4 is an innovative burglar alarm, smart home, and video surveillance system that is reliable, easy to use, and extremely versatile. You do not need any constructional alterations to protect your building against intruders or other risks. The alarm panel can control your heating, lights, shutters, and other electronic devices. Additionally, you can integrate your cameras, view their live stream, and, thus, immediately discover the source of an alarm.

LUPUS-XT4 is a professional and secure alarm system.
LUPUS-XT4 protects your building professionally. You can connect up to 480 alarm sensors via the proprietary radio band of 868MHz. Alarm sensors against burglars, robberies, fire, water, gas, and medical emergencies are available. In case of an alarm you will immediately by alarmed via push-notifications, e-mail, SMS, a telephone call, and additionally you can connect a 24/7 guard service. For the transmission of these alarms, the XT4 uses two redundant methods: Via your network and via the integrated GSM module
Of course, you can also integrate video surveillance systems by LUPUS, as well as, 99% of available IP cameras on the market into the user interface of your LUPUS-XT4.
Professional and secure! Hence, the LUPUS-XT4 is conform according to the European quality norm of EN50131 grade 2.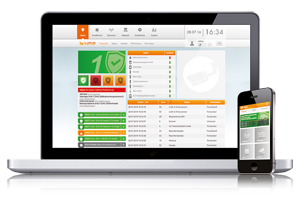 The operating system for your building
LUPUSEC-XT4 is an extensive smart home system.
The LUPUSEC-XT4 is the perfect control unit for your building. You can control your heating, lights, shutters, and other electronics devices. Due to the simple and intelligent software, you can connect all functions with each other and, thus, you can adjust them to your individual routines and schedules: e.g. you can create power and temperature events that are triggered when you leave your home, or power and light events according to a fixed time or depending on the sunrise and sunset. Thus, it is quite simple to create a holistic presence simulation, as well as, power saving routines with just a few clicks. All of our smart home actors are connected wirelessly via ZigBee Plus with the alarm panel, thus, they are separated from the radio band of the alarm sensors.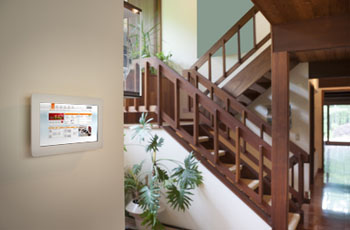 The operating system for your building
LUPUSEC-XT4 is a secure system with the highest standard for your privacy.
No cloud, no server, no data leech! No data that is stored on the XT4 is ever send to any server. Thus, you data is secure and neither collected nor analysed. The connection of a smartphone, tablet, or computer is always a direct connection between this device and your alarm panel. For the connection with these devices, the XT4 uses a secure end-to-end 256-bit TLS encryption. Hence, you are completely independent from any servers. Even if your internet connection fails or is compromised, the XT4 features a second, redundant alarm routine via the GSM/LTE module.
The available control units (keypad, tag reader, remote control) use a rolling code encryption, which protects the XT4 against attacks. Additionally, the sensors, the alarm panel, and the wireless connections are protected against tampering.
In case of a blackout, the LUPUSEC XT4 is equipped with an emergency power supply via a lithium rechargeable battery for 16 hours.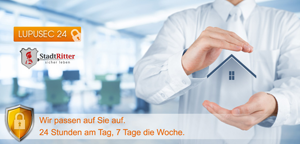 The LUPUSEC 24 alarm service
LUPUSEC-XT4 offers an innovative service.
The LUPUSEC alarm service can be subscribed directly in the browser interface of the LUPUSEC XT4 and connects your alarm panel with a professional guard service that is working 24/7. The LUPUSEC 24 guard service also reacts when you are not able to.
Two different options of the LUPUSEC 24 guard service are available: the standard option costs EUR 19,90/month with includes status monitoring, burglar protection, fire protection, robbery protection, interference monitoring, LUPUSEC action plan, emergency monitoring (gas, water, medical), report logging, automatical alarm verification via telephone (five numbers). The premium option costs EUR 39,90/month and includes all services of the standard option, as well as, tampering monitoring, monitoring of opening and closing times for businesses, and private emergency response personal in case of an alarm.
The LUPUSEC 24 guard service is only available in Germany - other guard services can be connected via Contact IF over IP.
Installation wizard and one-click integration of sensors.
LUPUS-XT4 is easy to install and to use.
The installation wizard and the quick guide allow you to easily set up your XT4 alarm panel. You will be guided step by step to all the initial processes.
Due to the one-click technology, the integration of sensors is very simple and allows you to connect new sensors at any time to your alarm panel: You just need to open the menu "Sensors" → "Add" and start the connection mode of the alarm panel. Every sensor features a well visible button on its front. Pressing this button is enough that the sensor is displayed in the menu of the alarm panel and can be added by clicking on "add."
LUPUSEC GRID — The 100% individual user interface.
The LUPUSEC GRID is your completely individual user interface. This innovative HTML5 interface requires no server connection and is loaded directly from the alarm panel into your browser. The GRID consists of apps that you can adjust perfectly to your needs. For example, on a tablet in your kitchen, you could display the alarm control, outdoor cameras, electronics household aids and the light. On the first floor, you might prefer the shutter control and your entertainment system to the alarm control. These functions can be set up with a few clicks and sorted into different profiles according to the place at which they should be displayed.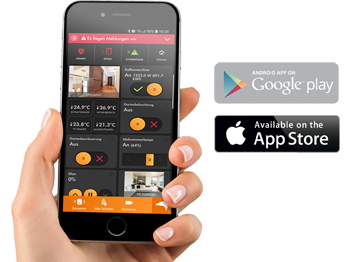 Free of charge: iOS and Android APP.
Die LUPUS App — Control your home while on the road.
The concept of our app is to allow you to control your home while you are on the road. The app is available for iOS and android devices and can be downloaded in the corresponding store. You will need about 2 minutes to enter the login information. On the home screen of the app, all important information are displayed: a brief log file with the current events, the alarm status, the option to switch between arm, disarm and home mode, direct access to the sensor status, home automation, and cameras. The app, just like the browser interface, allows you to easily connect new sensors, to create new automation rules, to control your heating, etc. By clicking on a push-notification (e.g. in case of an alarm) the app is immediately opened.
There are more than 60 accessories available for the LUPUS XT4. This includes 16 alarm sensors, 24 smart home products, 6 control units, 4 sirens, two service products, more than 25 camera models, and a wide selection of camera accessories.
* The value given here was measured under laboratory conditions and can vary considerably under real conditions in the building.